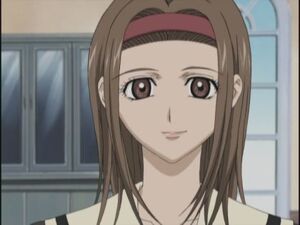 Rei's grande sœur; one of the most well-respected of the Yamayurikai. She is very gifted and good at almost everything, although she is also enigmatic and eccentric. She has a large forehead, which Sei made fun of when they were young, and began their rivalry. She said once that she chose Rei as hersœur to see if anything interesting would happen. She often has friction with Yoshino, as the younger girl is jealous of her bond with Rei (though Eriko herself finds it interesting to tease Yoshino with regards to this). Eriko has three over-protective older brothers. After leaving Lillian, she studies the Arts. She hates the dentist above all else. She is in love with an older man who is interested in dinosaurs.
Background
Edit
She is a wealthy only child who people get confused with having four brothers, which are her cousin's cousins. (Courtesy of character designer)
Personality
Edit
Eriko is generally bored all the time because she's wealthy and does everything perfectly. When something interests her she loses her patience and becomes difficult to handle. This obsessive aspect of her personality makes it hard for others to be around her. She's called "Snapping Turtle Eriko" because when she finds something interesting, she won't let go.
She is somehow inclined with literature. She sometimes asks a stranger a kind of literary question which is quite difficult to understand by the common people.
Appearance
Edit
She always wears a red headband in the series that shows off her forehead.
She was once called "Dekochin" by Sei because of her big forehead. But Eriko is a very beautiful young woman with brown eyes and short brown hair.
Relationships
Edit
She became infatuated with a teacher, who didn't return her feelings, but it didn't discourage her.
Hasekura Rei
Eriko chose Rei to be her soeur to see if anything interesting would happen.
Rei can barely argue to her grande soeur because the result would always end up as Eriko winning. She even told Yoshino that arguing with her Onee-sama is completely useless because it will only get her even more fired up and difficult to handle.
Eriko is terrified of the dentist.