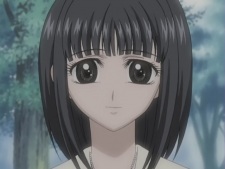 A young girl with a fascination with Buddhist statues and art. She enters Lillian Academy (a strictly Catholic institution) due to an unexpected turn of events. Due to this fact, she faces an astounding cultural shock (from the old-fashioned style school uniform to the students' mannerisms that she finds too antique and too "refined" to get accustomed to). Even in the novel's narrative, Shimako is referred as "Shimako-san" from Noriko's perspective, and not the usual "Shimako-sama" as default to all upper-classmen, and the fact that she hardly uses polite Japanese when talking to Shimako in private, also defines Noriko's detachment from Lillian's culture. She has a striaghtforward temper that contradicts her calm exterior and becomes Shimako's petite sœur after Shimako enters her second year. Her very plain and jet-black hairstyle makes her look like a traditional Japanese doll, another stark contrast to Shimako's "western doll" appearance.
Background
Edit
Personality
Edit
Relationships
Edit
Noriko becomes the petite soeur of Shimako in Volume 10 of the light novels. She is also very good friends with Touko. Noriko cares deeply for them both.
Noriko meets Sei some time later in the novels.